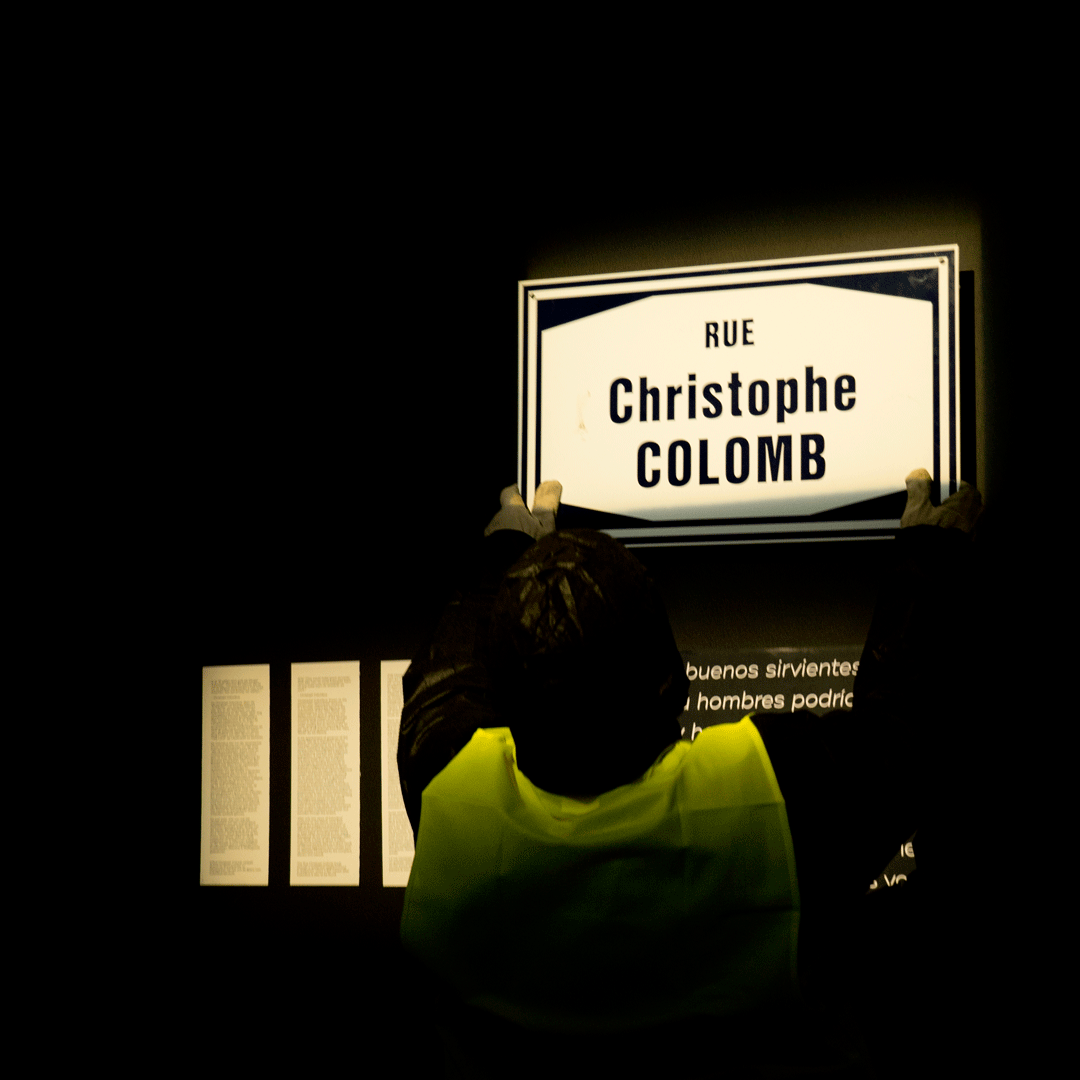 Am Kader vun der Ausstellung "Stronger than memory and weaker than dewdrops" leeft vum 10.11.2021 bis den 30.01.2021 eis Ausstellung "Mémoire coloniale luxembourgeoise" am Casino Luxembourg an der Stad. Den Entrée ass fräi.
---
Richtung 22 – Kolonial Erënnerungen
Lëtzebuerg, 2021
Objets volés
(LU) 2020 huet d'Beweegung Black Lives Matter d'Debatt ronderëm den europäesche Kolonialismus nei lancéiert. Dës Debatt dierf net laanscht Lëtzebuerg goen. D'Lëtzebuerger Kolonialgeschicht ass am Alldag present an et gëtt nach ëmmer am ëffentleche Raum u Kolonialprofiteuren a -verbriecher erënnert. Fir d'Glorifizéierung vum Kolonialismus ze beende missten och zu Lëtzebuerg Stroossen ëmbenannt ginn.
Richtung22 huet dofir Stroosseschëlder symbolesch "an de Musée" bruecht fir se hei an de Kontext setzen ze kënnen. Wéi déi Stroosseschëlder an eise Besëtz gelaangt si bleift ee Mysterium – anerersäits hu Muséeën a Galerien traditionell kee Problem mat Raubkunst.
---
Richtung 22 – Mémoire coloniale luxembourgeoise
Luxembourg, 2021
Objets volés
(FR) En 2020, le mouvement Black Lives Matter a relancé le discours autour du colonialisme européen. Cette discussion doit également avoir lieu à Luxembourg. L'histoire coloniale du Luxembourg est visible dans la vie quotidienne : les profiteurs et les criminels coloniaux continuent d'être commémorés dans les espaces publics. Pour mettre fin à la glorification du colonialisme, des rues au Luxembourg devraient également être renommées.
C'est pourquoi Richtung22 a symboliquement apporté les plaques de rue "au musée" afin de pouvoir les replacer dans leur contexte ici. La façon dont ces plaques de rue sont entrées en notre possession reste un mystère, mais les musées et les galeries d'art n'ont traditionnellement aucun problème à présenter des œuvres pillées.
---
Richtung 22 – Luxembourg's colonial memory
Luxembourg, 2021
Objets volés
(EN) In 2020, the Black Lives Matter movement has revived the discourse around European colonialism. This discussion must also be held in Luxembourg. Luxembourg's colonial history is visible in everyday life: colonial profiteers and criminals continue to be commemorated in public spaces. To stop the glorification of colonialism, some streets of Luxembourg should be renamed.
That is why Richtung22 symbolically brought the street signs 'to the museum' so that they could be put into context here. How these street signs came into our possession remains a mystery, but museums and art galleries traditionally have no problem presenting stolen art.
---
Pressespiggel
"Richtung22-Ausstellung iwwer Kolonialgeschicht: Plainte zréckgezunn" (100komma7, 12.11.2021)
"Freigeister in Luxemburg" (Monopol – Magazin für Kunst und Leben, 15.11.2021)
"Tout droit direction musée – "Richtung 22" déniche le passé colonial dans les plaques de rue" ("Tageblatt, 27.11.2021)