(LU) D'Kulturjoer neigt sech dem Enn zou. Esch City Plus breet sech aus. D'Corporate Maschinn zelebréiert hiren Erfolleg. Zur Feier hunn den Dan Kaemmpfer an Noah sech eppes Besonnesches iwwerluecht. Een Album. Ee Chrëschtdagsalbum. All Advent een néie Song. Just fir dech.
(EN) Esch2022 is almost over. Esch City Plus continues to spread. The corporate machine celebrates its success. To celebrate, Dan Kaemmpfer and Noah have come up with something very special. An album. A Christmas album. A new song every Advent. Just for you.
---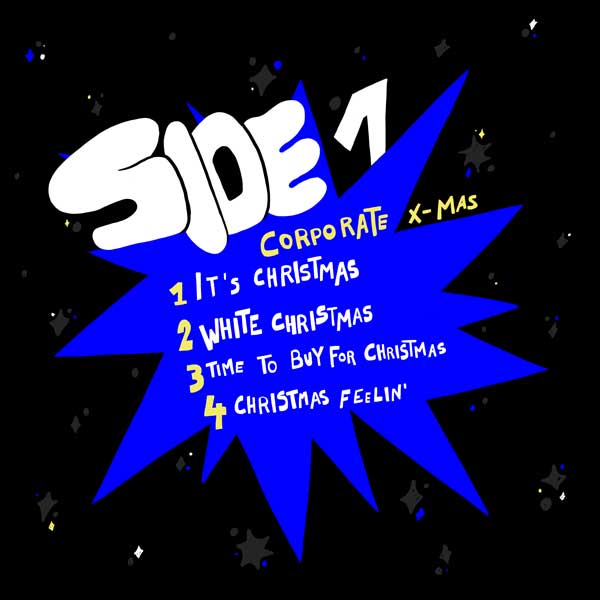 A Side: Corporate X-Mas
1. It's Christmas
2. White Christmas
3. Time to buy for Christmas
4. Christmas Feelin'
B Side: To be announced
Stay tuned.
---
1. Advent: Its Christmas
The Christmas countdown starts today! Finally a month without sadness: No tears allowed during these Christmas holy days. Let's gather around the Christmas tree, sing out loud this hearth warming song, and celebrate together that holiday of joy and happiness.
---
2. Advent: White Christmas
Listen up ho ho hoes, Noah (Architect and Head of Security of Esch City Plus) here to tell you that my song "White Christmas" just dropped.
---
3. Advent: Time to buy for Christmas
Dear family in my heart, have you heard? The holidays came! And you know what that means: It's time to buy for Christmas! So listen to this song and use your credit card like never before, have fun and share your love through the presents which you use to buy the love of your family who don't get to see you throughout the year because you're busy working so you can support your family and afford gifts to show them that you love them even though you're never at home because you're always working and soon you'll realise that your children are complete strangers to you!
---
4. Advent: Christmas Feelin'
The fourth Advent is here and with it the last song of our A-side. Esch City Plus is here to stay, slay and betray! In this glorious review we show you the milestones we reached in Esch2022. Dan Kaemmpfer has brought culture to Esch City Plus. The city was cleaned and covered with a layer of varnish.