Oppent Treffen vu Richtung22
Op eisem oppenen Treffen léiers du eise Grupp kennen, gëss iwwert déi aktuell Projeten informéiert a kanns dech aktiv mat abréngen. Dës Treffen sinn ëmmer Donneschdes ab 17h00 Auer. Komm laanscht!
---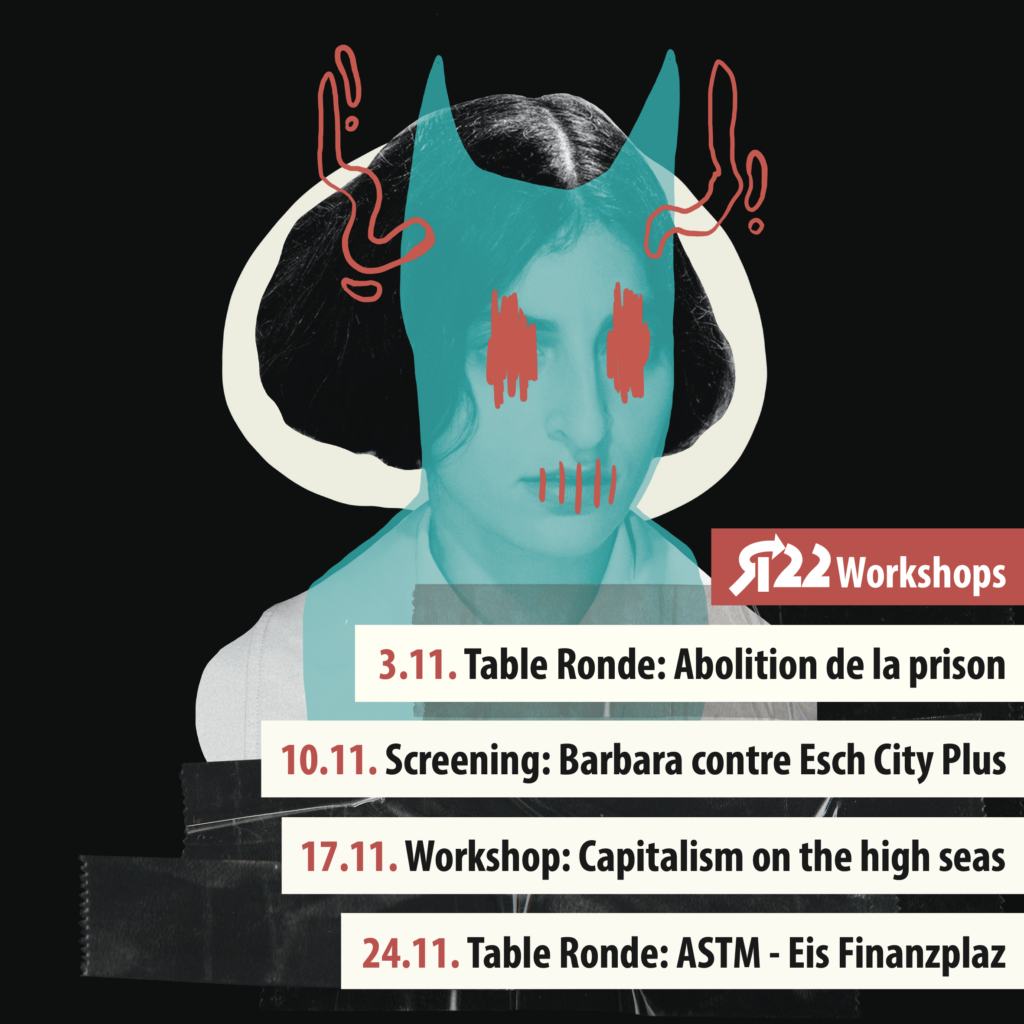 Am Kader vun eisem wöchentlechen "Oppenen Treffen" maachen mir och Workshops! D'Workshops sinn oppen fir all Mënsch an daueren ongeféier 90min. Mir wëllen Workshops an dräi verschiddenen Kategorien ubidden: Konscht, Aktivismus, Theorie.
Zäit a Plaz:
All Donneschden um 18h00 am Bâtiment 4 zu Esch/Alzette (Heiansdo och aner Zäiten/Locations)
Workshops November 2022
3.11 Table Ronde Prison ofschafen
10.11 Screening Theater Play
17.11 Propose: Capitalism on the High Seas and what Luxembourg has to do with it (Michelle)
24.11 Table Ronde Finanzplatz (ASTM)
Vergangen Workshops:
Workshops Oktober 2022
06.10 D'Police ofschaffen? Diskussiounsronn vu Loft am Bâtiment4
13.10 Letzbuerger Konschtgeschicht 
20.10. Tessy Dokumentaire
27.10. Foire de l'étudiante
Workshops September 2022
08.09. Kee Workshop
15.09. Ech haasse Franséich – firwat?
22.09. Screening Theatersteck
29.09. Konschtaktivismus
Workshops August 2022
11.08. Screening: Youthless (2017)
18.08. Urban Sketching
Workshops Juli 2022
07.07. R22 um CIGALE Karaoke
14.07. Intro an Anti-Gender Theorien
21.07. Nostalgie: Onbekannt Momenter aus der R22-Geschicht
28.07. Sound Workshop: Make a Song in a Web Browser
Workshops Juni 2022
02.06. Table Ronde: "Le Luxembourg, un état colonial" (Abtei Neumünster)
09.06. Workshop: Ech haasse franséisch – Firwat?
16.06. Filmscreening: Gosstown
23.06. Workshop: Wildes Plakatieren
30.06. Workshop: Zelten am urbanen Raum
Workshops Mee 2022
05.05. Marxismus 101
12.05. Bühnekampf
19.05. Bourdieu: Hbitus a Kulturellt Kapital
26.05. Tie-Dye